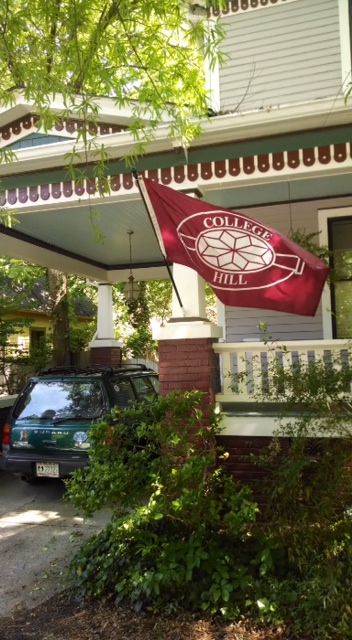 All College Hill residents and all property owners are members of the neighborhood association. Meetings of the CHNA board are held monthly and are open to all.
The board develops and implements the College Hill Neighborhood Plan in collaboration with the city Planning Department. It also directs the allocation of the historic district's municipal service district funds.
The neighborhood board reviews applications for certificates of appropriateness from property owners in the historic district and advises the Greensboro Historic Preservation Commission.
The board invites neighborhood property owners applying for COAs to attend the board meeting before their application is heard by the HPC to answer any questions that board members or other neighbors may have.
The association also manages the College Hill Neighborhood Watch program, which distributes information through Nextdoor. CHNA is a member of the Greensboro Neighborhood Congress.
Dates and times
Meetings are held monthly on the Monday before the last Wednesday, 7 p.m. The schedule is aligned with meetings of the Historic Preservation Commission, which meets on the last Wednesday of the month.
Locations
Meetings are usually held at the Presbyterian Church of the Covenant, Fellowship Hall, 501 South Mendenhall Street. Occasionally, meetings are held at other locations in the neighborhood.