Trash and yard waste are picked up in College Hill each Friday. When Friday is a city holiday, collections are made a day early, on Thursday.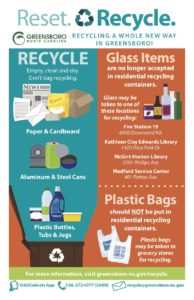 Trash cans should not be left at the curb throughout the week. They should be taken out after 7 p.m. on Thursdays. They should be out by 7 a.m. on Fridays. Containers should be returned to backyards by 7 p.m. on Fridays.
The City of Greensboro's Field Operations website has more information online about trash collection and the trash collection schedule and about recycling.
Recycling: Alternate
Fridays only
Recycling and bulk items (things too big to fit into the city's 90-gallon residential trash cans) are picked up on alternate Fridays only (marked in red on the calendar above).
The city no longer accepts glass to be recycled. These items also are no longer accepted:
Pots and pans

Shredded paper

Gabled cartons, such as milk cartons and juice boxes

Large plastic items, such as buckets or lawn furniture

Aerosol cans (These can be dropped off at the Household Hazardous Waste Convenience Site, 2750 Patterson Ave., Monday through Friday 10 a.m. to 6 p.m., and Saturday 8 a.m. to 2 p.m.)
Although glass is no longer picked up at the curb, it can be taken to several recycling centers around Greensboro. The closest is at First Presbyterian Church in Fisher Park. The bins are in a parking lot on Fisher Avenue
Click here for complete information on recycling in Greensboro.
Cardboard boxes should be broken down and placed in your brown recycling container.
These items will not be picked up by trash collectors: Electronics, paint, car batteries, tires, and more
Televisions, computers and anything else with an electronic chip should be taken to the Household Hazardous Waste Collection Center for disposal — 2750 Patterson Street, open Monday-Friday 10 a.m. to 6 p.m., Saturday 8 a.m. to 2 p.m. (new hours effective July 2, 2018).
Paints, cleaners, varnishes, car batteries, motor oil, and pesticides also go to the Household Hazardous Waste Collection Center.
Tires have to be taken to the Guilford County Scrap Tire and White Goods Collection Facility at 2138 Bishop Road. Phone 336-294-9431 for hours.
Appliances
Appliances are picked up by appointment only; call 336-373-2489 (CITY) to make an appointment. Washers, dryers, stoves, refrigerators, air conditioners and other large appliances ("white goods") also can be taken to the county collection facility.
Yard waste
Yard waste is collected weekly along with garbage. It needs to be:
— Tied in bundles no more than five feet long and 50 pounds,
— Put into 32-gallon garbage cans (not the containers provided by the city) weighing no more than 50 pounds, or
— Put into clear plastic bags. The city says it will not pick up yard waste in black plastic bags.
Oversize items: bulk trash
Items that do not fit in your green trash container, such as mattresses and furniture, are considered bulk trash and are picked up only on recycling weeks.
Carpets must be rolled and tied. Each bundle must be a maximum of 5 feet in length.
When dealing with bulk trash, remember the "2-2-2 Rule": Trash should never be 2 big for 2 people 2 handle. If it is, they won't take it.