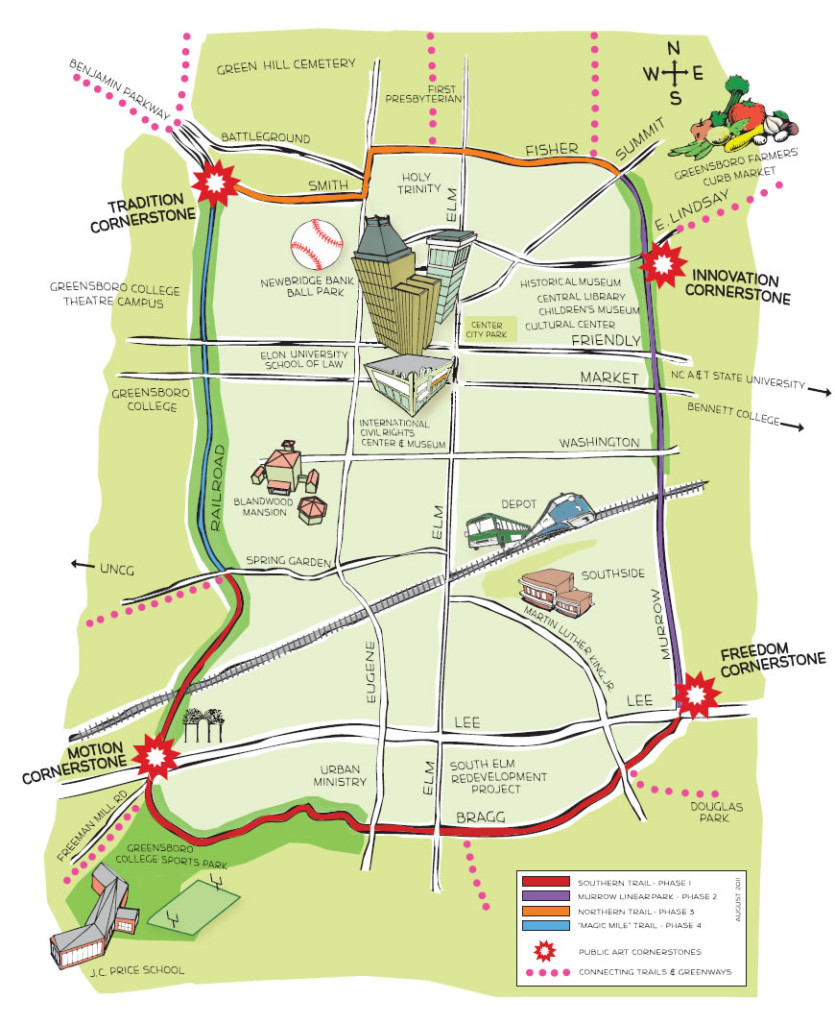 In case you missed it yesterday: The Downtown Greenway now has a green light to proceed with the section on the east edge of College Hill. That project will replace the railroad tracks along Greensboro College with a walking and biking trail as part of the four-mile greenway circling downtown.
This mile-long section has been blocked by the that one last, lonely train that rolls out to the Chandler Concrete Company on Battleground Avenue once every, what, six weeks? Six months? Chandler has sold the plant and is getting out of the way (thank you, Chandler Concrete!). Before the sale, it signed a restrictive covenant taking the tracks along its property permanently out of service (thanks, again!).
Dan Curry, longtime College Hill homeowner and former manager in community development with the City of Greensboro, on what this means for the neighborhood:
"This project can have big-time economic benefits to neighborhood property owners, as has been seen in other parts of the greenway. It also will require some creative thinking about how to handle street crossings at West Market Street, McGee Street, Cedar Street and Spring Garden Street and how those crossings play into our current efforts to slow traffic and create a more pedestrian-friendly atmosphere.
"I am sure many of us will be ready to participate in the planning and design process as it unfolds. Likely we will also need to participate in planning for the artwork and themes of this section and how it can celebrate the history of College Hill. As I assume the funds are not yet raised for this section, we will also need to be ready to support the fundraising program to ensue that this section can be designed and built as quickly as possible.
"Perhaps at one of the next neighborhood meetings we can discuss an appropriate statement of support from the neighborhood for this upcoming major initiative."