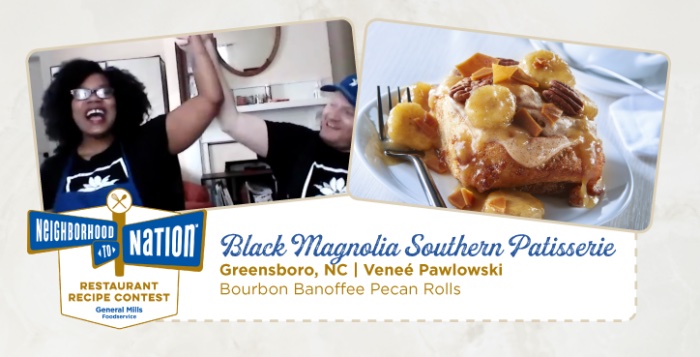 A College Hill pastry chef has won a national award, and with your help she also could win $5,000 for the Greensboro Urban Ministry food bank.
Veneé Pawlowski of Black Magnolia Southern Patisserie is one of 20 winners of the General Mills 2020 Neighborhood to Nation Recipe Contest, an annual event for independent restaurants and food trucks across the country. Today through Friday, customers and neighbors can vote online for Black Magnolia to win an additional $5,000 to be awarded to the Greensboro Urban Ministry. To vote, leave a comment on the photo of Veneé's winning entry on the General Mills page on Facebook. You can vote once each day through this Friday, February 26.

Veneé won for her Bourbon Banoffee Pecan Cinnamon Rolls. She received $5,000 plus paid advertising and other marketing tools for the business. "Our bakery has seen success from these Brioche Cinnamon Rolls we offer every Saturday, with Bourbon Banoffee Pecan being our best seller," she told General Mills. "Banoffee" is a combination of banana and toffee that originated in England.
Veneé and her husband, Ian, operate the business at 920 Carr Street. Customers place orders online and pick up their purchases at the house. "Black Magnolia Southern Patisserie is a small batch cottage bakery that provides all made from scratch classic Southern desserts with an elevated French Patisserie flair," its website says. "Our products are made from locally sourced ingredients with a goal of enriching our community by supporting our local economy."
Veneé has been baking for about nine years, working at a number of restaurants and bakeries. She won honors as pastry chef for Table 16, the longtime restaurant in downtown Greensboro, and at Sweet Josephine's bakery in High Point. After establishing Black Magnolia through catering and producing special orders, the couple started baking a menu of items on a continuing basis, all available now as special orders. The menu includes rolls and pastries, pies and tarts, cookies, and custom cakes. Beignets are available one Sunday each month. Black Magnolia baked goods also are sold at The Green Bean on Mondays and Thursdays. The Pawlowskis now are looking for a commercial kitchen where they can increase their capacity.
Black Magnolia is closed on Mondays, which is a happy coincidence for Veneé and Ian. Today is the first birthday of their daughter, Amelia.