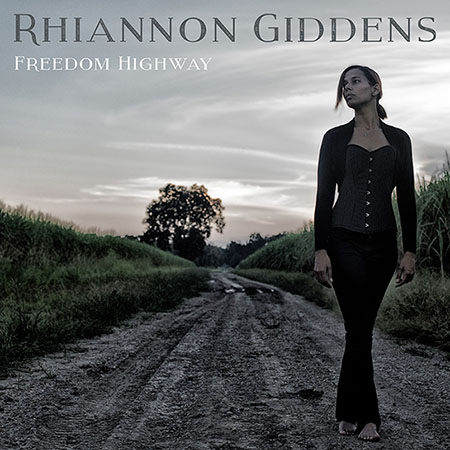 I kept running into Rhiannon Giddens on the internet yesterday, and it made me think about the days when she lived in Greensboro. I don't know whether she ever lived in College Hill; perhaps she was like EmmyLou Harris, just dropping in to the neighborhood to sing a bit now and then before going on to her brilliant future.
Around 2004 Rhiannon was a regular participant in what was then the 9:20 service at the Presbyterian Church of the Covenant. She offered thoughtful comments during the group discussions, and she sang once, maybe more than once. Her voice was a revelation for everyone, I think; her singing provided a "what's-she-doing-here" moment. And, sure enough, soon she moved away from Greensboro. The next we heard of her, she and the Carolina Chocolate Drops were getting famous and, in 2011, winning a Grammy.
A week-old email I opened yesterday from the Carolina Theatre listed her June 8 concert there among its coming attractions. And while looking for something else online, I happened to see that the All Music Guide was featuring a glowing review of her new album, "Freedom Highway," one of many excellent reviews it has received ("A timely, arresting album," The Guardian).
Moving on to The New York Times website, I expected little more than the day's awful news out of Washington, but there she was again, in a prominently displayed piece headlined, "Rhiannon Giddens Celebrates 'Freedom Highway' in the Big House."
"OSSINING, N.Y. — The music industry usually rolls out new albums with in-store performances at record shops, high-profile media appearances or buzzworthy kickoff concerts. But when Nonesuch Records released 'Freedom Highway,' the new album by the folk singer Rhiannon Giddens, on Feb. 24, the occasion was marked by Ms. Giddens and her backing band's spending a day in a far more sobering environment: the Sing Sing Correctional Facility. …
"The trip up the river, however, turned out not to be as far afield as it might first appear. Ms. Giddens's visit — which included leading an afternoon workshop with inmates and performing an evening concert for them — was organized through Carnegie Hall's Musical Connections program, which sponsors educational outreach at Sing Sing, helping participating inmates learn to play instruments and compose. In a conversation on the way back from the prison, Ms. Giddens called the day's setting 'perfect for what this album is about and the sort of social consciousness and activism that surrounds this record.'"
Wouldn't Johnny Cash have just loved her?