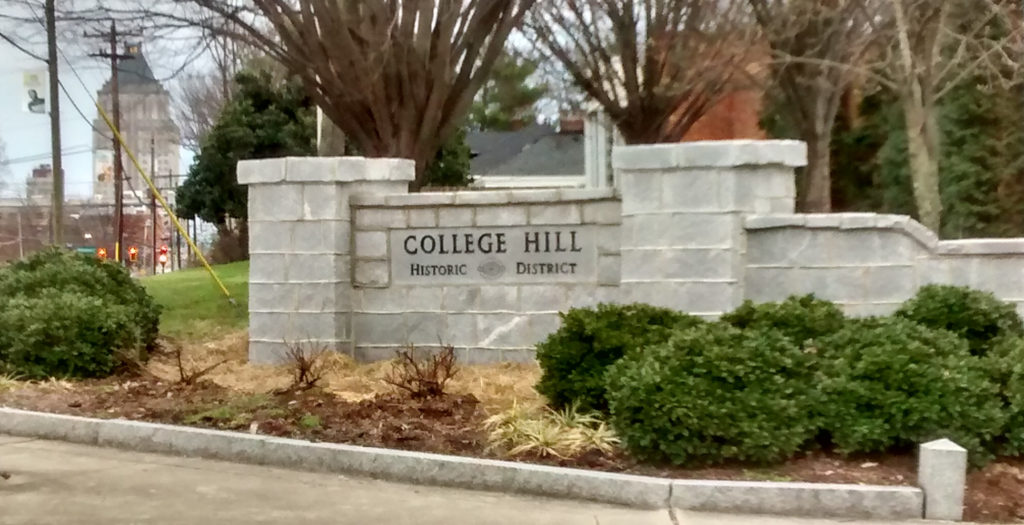 The College Hill Neighborhood Association will hold its annual election for officers and board of directors on Monday, February 20, at 7 p.m. in the Fellowship Hall of the Presbyterian Church of the Covenant, 501 South Mendenhall Street. Anyone interested in running can inform the board by sending an email or by letting us know at the meeting.
All members of the neighborhood association are eligible to run. Membership is open to all College Hill residents and property owners.
The board develops and implements the College Hill Neighborhood Plan in collaboration with the city Planning Department. It also directs the allocation of the historic district's municipal service district funds. Current projects include selling the neighborhood association's small lot on South Mendenhall Street and a developing a plan to slow traffic on South Mendenhall Street through upgrades to the roadway, intersections, signage and markings.
The neighborhood board reviews applications for certificates of appropriateness from property owners in the historic district and advises the Greensboro Historic Preservation Commission. The association manages the neighborhood's Neighborhood Watch program and is a member of the Greensboro Neighborhood Congress.
The board meets monthly on the Monday before the last Wednesday at 7 p.m. at the Presbyterian Church of the Covenant. The meeting dates are determined by the monthly meeting of the Historic Preservation Commission, which meets on the last Wednesday of the month.
The neighborhood association's current officers and directors are:
Officers
President: James Keith
Vice President: David Arneke
Secretary: Amanda Keith
Treasurer: Arlen Nicolls
Board Members
Eric Crouse
Dan Curry
Lynn Gagnier
Virginia Haskett
Dave Hemm
Clara Kelly
Lyddan Pawlowski